Home
Express your Condolences. Honor the Memory of a Deceased Loved One. Send Funeral Flowers to Fort Worth Funeral Homes. Shop Wreaths, Crosses, Baskets as well as Standing Funeral Sprays, Casket Sprays and More.
After the death of a close friend or family member, those in mourning need a support system of people comforting and nurturing them through one of life's most painful episodes. Most of us are anxious to find some way to help soon after we hear the news of someone's passing. Nothing is more appropriate than the age-old tradition of sending sympathy flowers. Grief therapists agree that the rituals surrounding death, aid the grieving process. Changing trends in how we commemorate deaths in this country has added some confusion about traditional funeral customs and funeral etiquette. Flowers have traditionally been sent to the funeral home for display during the viewing/visitation and funeral service. However, if no service held, it does not mean that there should be no show of sympathy. In instances where there is no service, experts recommend sending condolences to the homes of the bereaved.
Cremations: Urns and cremation boxes accentuated with appropriate floral tributes. A small wreath or garland for these containers is necessary and incorporated into a larger beautiful arrangement. An array of coordinating baskets and sprays placed around the box. When ashes scattered on water, sympathy wreaths, flowers, and flower petals tossed onto the water's surface.

Memorials: Places of significance, such as the podium where readings performed, a table displaying remembrances such as photos or special mementos and even a cemetery monument, can be adorned with flowers. Depending on the particular focal area, garlands, sympathy arrangements in vases or baskets and sympathy sprays are all appropriate choices. Just as flowers add softness and warmth to the surroundings, live plants displayed around an area can create a peaceful garden setting. You can send dish gardens and plants to the homes of family members of the deceased. Chrysanthemums or flowering shrubs such as azaleas are also good choices.
Ceremonial placement: A tragic death sometimes are memorialized near the site where it occurred. Trees, markers, fences or other objects in the area adorned with floral decorations, such as garlands, wreaths or bouquets. Often attendees will place individual stems of flowers like roses at the ceremonial location.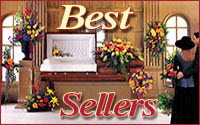 At one time or another, it will happen to the best of us. The funeral was today at 10 a.m., and you just heard about it. Do not despair. It is considered proper funeral etiquette to send flowers to family members of the deceased at their residences. In fact, it is appropriate to send flowers, plants and sympathy gifts up to a month after the funeral services. Some people prefer to send funeral flowers at a later date. Although the initial outpouring of compassion is a great comfort, eventually the chaos subsides. At this point, many people feel lost and alone. Consider sending flowers or a plant with a personalized sympathy card that reads I'm here if you need me." The bereaved will know you are still thinking of them and they can count on your support.
Make mine stand out, please.
To make your funeral flowers particularly unique, ask our Funeral Home Flower Shop to create an arrangement that reflects an aspect of the deceased's personality. A rustic basket of wildflowers incorporating branches and natural materials is a perfect choice to honor someone who loved the outdoors. You could request that we use the deceased's favorite flowers or colors or a flower with particular significance. Be prepared to give our Funeral Home Flower Shop a few hints about the person you want to memorialize. Highly-personalized sympathy tributes might even include a sheaf of wheat in an arrangement for a farmer or a ball of yarn and knitting needles for someone who liked to knit. For instance, a semi-truck could be added to flowers for a truckers funeral or a teddy bear for a child's service. You are limited only by your imagination. Almost anything can be incorporated into a funeral floral arrangement. Whatever you do, the family is sure to notice your effort and appreciate it.
Remember to shop local when sending funeral flowers.
How do you turn grief into a healing process? Show your respect and sympathy; flower delivery to the funeral home in Dallas-Fort Worth TX will comfort the bereaved. Although you can't take away their grief, you can create an atmosphere of support and understanding by sending sympathy flowers.
To make sending funeral flowers to a funeral home easy, give us a call, stop by or place your order online. We will create a memorial arrangement that expresses your heartfelt sympathy and deliver on the promise.